3 Canyons Bike Ride 2022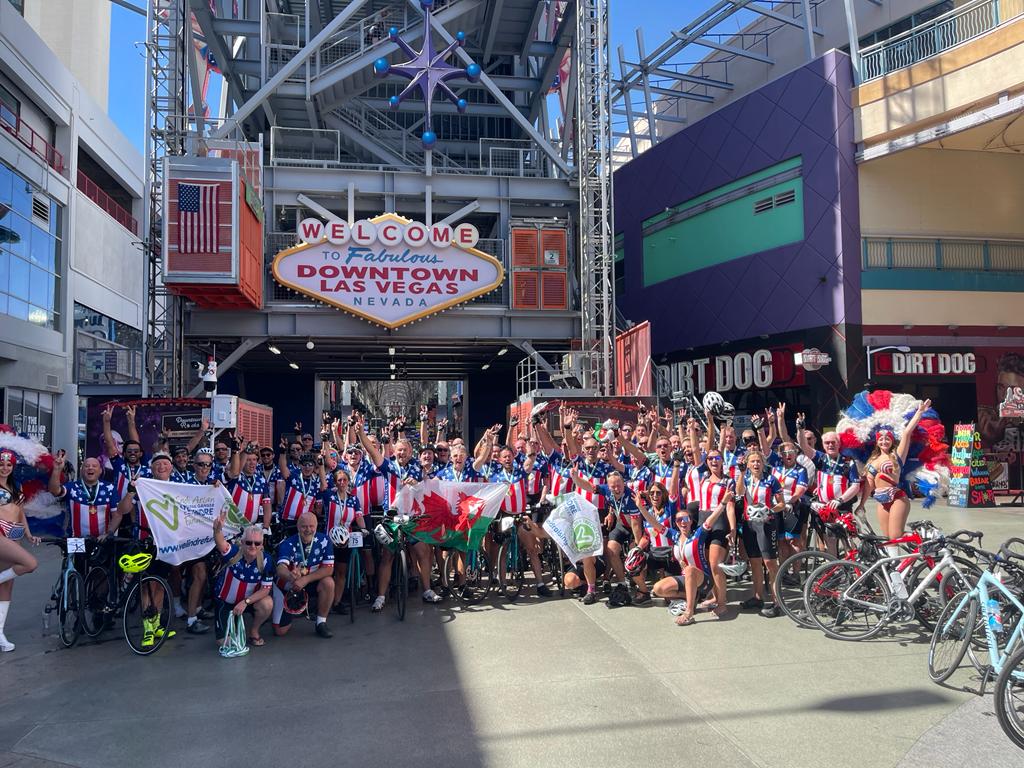 Mile by Mile…
Day 1:
Over 70 participants have recently touched back down on UK soil following our 3 Canyons Overseas Bike Ride that was a huge success. We are in awe of the passion, drive and sheer determination that was displayed by every single participant who joined us on this epic journey across the Canyons.
This week, we will be bringing you highlights from the challenge, giving you an insight to how incredible these fundraisers are and the lengths they have gone to in order to change the lives of cancer patients in Wales.
So what was the challenge? 5 days cycling, over 300 miles covered through three USA states, all in aid of Velindre Cancer Centre.
⚠ A FLASH FLOOD WARNING – Do not attempt to travel. ⚠
After a long evening travelling across the globe, participants were greeted with this emergency message as we transferred into Zion National Park for our first day of cycling. Unfortunately, the extreme weather warning meant day one didn't quite go to plan but our participants did manage to get out on the road and soak up the sights of Zion National Park.
Despite the change of plan, the comradery and team support was like no other and the delayed start allowed each participant to share their reasons for participating and their motivations for pushing ahead to the finish line.
Little did they know the most gruelling day of distance, climbing and altitude awaited them the next morning…
Check back in tomorrow for the next leg of the journey 🚵
Day 2:
No participant was ready for what day 2 of the 3 Canyons Bike Ride had in store for them. High altitude, severe gradients and for some, over 11 hours in the saddle travelling from Iron County to Bryce Canyon really was the toughest physical challenge they had ever faced.
This particular day has been crowned the most difficult route in Velindre overseas history and we are beyond proud of every single participant that conquered this epic challenge.
To start the day, our participants faced a steep 1,700ft climb for the first 6 miles of the day taking them to a high altitude summit of 9910ft. Training under these conditions challenged every single rider and made the journey ahead that much tougher.
A constant undulating route took us through Dixie National Forest, passed Panguitch Lake and along roads with views of Mount Nebo and the black mountains which offered some much needed relief from the constant uphill struggle we faced.
With just over 20 miles to go, it was not yet time to say goodbye to the hill climbs as we had one final push to the finish line which sat at 7777ft, at a hotel near Bryce Canyon.
This day was tough physically, mentally and for many, emotionally with the thoughts of home and their loved ones becoming more prominent with each mile. It was a special moment when a participant supported a fellow rider up the hill, sharing stories of how Velindre has become entwined with their lives. Moments like these make these overseas challenges what they are and always remind us why we do what we do.
Our next instalment arrives tomorrow with highlights from Day 3…
Day 3:
Our next instalment of the 3 Canyons highlights takes us from Bryce Canyon to the City of Kanab in Utah. Another difficult day lay ahead with 76 miles between us and the final destination.
Fatigue from the monumental first day of cycling was setting in but the enthusiasm, passion and contagious team spirit set everyone off with positivity and determination. Participants followed the Severe River past many Mormon settlements whilst tackling some challenging undulations for the first 36 miles, a difficult start to a very long day in the saddle.
It was at 36 miles, on the summit of our first significant climb, that we first heard the sad news that Welsh rugby union player, journalist and sports commentator, Eddie Butler, had passed away. There was an immediate change in the atmosphere and many participants became visibly upset and shaken by the news. For Jonathan Davies, Shane Williams and Sean Holley in particular, the news of a friend and idol had taken them by complete shock.
With heavy hearts and many fond memories of Eddie to share, they cycled on displaying great courage and strength as true leaders.
`Ahead of them, at 62 miles, a huge climb to 6100ft on Mount Carmel greeted them and presented riders with their final uphill struggle of the day. Once conquering the climb, there was a stunning descent into Kanab with 360 views of red rock and open grasslands.
That evening was like no other. It begun with a sentimental tribute to Eddie Butler led by President Jonathan Davies and Ambassador Sean Holley who spoke fondly of their relationship and memories with Eddie. It was a moment that touched every heart in the room.
Following this, the dining room erupted with song as an array of welsh classics and well-known anthems echoed around the building. It had an indescribable feeling of unity, pride and an overwhelming realisation of what we were achieving together on this challenge.
A feeling of pride that would most certainly carry participants through Day 4 of the challenge…
Day 4:
As the week continues, so do our highlights of our #3CanyonsBike Ride.
Day 4 saw our 76 riders depart the City of Kanab and head towards the sensational North Rim viewpoint of the Grand Canyon. For the 63 miles on the GPS, we cycled through Kanab National Park complete with… you guessed it… more hills!
At this point in the week, the days were feeling longer, the hills were feeling steeper but despite the challenge ahead, the unwavering team spirit and positivity kept everyone pushing forward.
They say 'The best view comes after the hardest climb' and that was most definitely true for Day 4 as our participants had the outstanding North Rim viewpoint of The Grand Canyon to look forward to.
The stunning scenery offered participants a moment to reflect on the challenge so far and when asked how they would describe their experience to someone reading these highlights, they said…
⭐️ "The 3 Canyons Ride was simply amazing and better than I imagined. I met wonderful people who shared their stories during hard days in the saddle and long into the night. The scenery was spectacular and looking across The Grand Canyon took my breath away."
⭐️ "Demanding & exhilarating. You'll laugh every day."
⭐️ "Once again a life experience that will live forever in my memory. It's an absolute privilege to represent Velindre whilst raising much needed funds for the exceptional organisation."
Day 5… THE FINISH LINE!
We've made it… Day 5 of the #3CanyonsBike Ride! The final miles towards the finish line were completed as a team surrounded by the stunning sights of Lade Mead in Hoover Dam. Like the powerhouse team they were, our 70+ participants rolled through Fremont Street together with the original 'Welcome to Las Vegas' sign in sight.
The air was filled with excitement, elation, emotion, pride and admittedly… a whole lot of relief as the challenge was officially conquered and all participants were across the finish line
Sometimes, a video speaks volumes and in this case, that is most definitely true. Thank you to Afanti Media who helped capture these very special moments and for joining us on the ride.
A special Thank You must also go to the brilliant team of people and partners who help make these overseas challenges happen including Hugh James Solicitors, MSS, Edwards Coaches, Agilis, Framing Wales and The Ultimate Travel Company.
The experience was even more spectacular because our Velindre President Jonathan Davies lead the way with the support of Patron Shane Williams and Ambassador Sean Holley. Thank You ALL for your continued passion and support for our cause, we are so grateful to each one of you.
Last and certainly not least, THANK YOU to all of our PARTICIPANTS who fundraised, trained and conquered this epic challenge across three American states. You are ALL incredible people and will forever be a valuable part of #TeamVelindre.