Carten Hat Trick for Velindre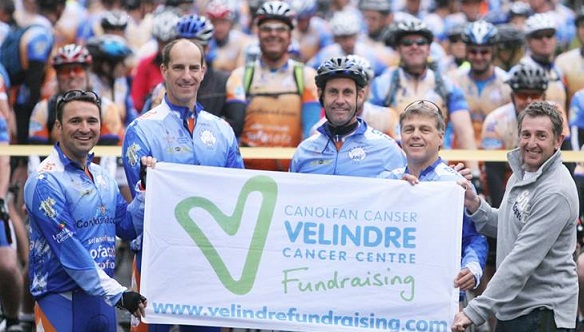 Velindre Cancer Centre are absolutely delighted to have been chosen as a beneficiary charity for the Carten 100 bike ride for the 3rd time! The epic bike challenge is a 100 mile plus ride from Cardiff to Tenby on 12 May, has been helping to raise hundreds of thousands of pounds for good causes for many years.
Andrew Morris Head of Fundraising at Velindre said "The Carten bike ride is well established in the cycling calendar, a really tough challenge which inspires thousands to take part, and raise enormous suns – we are thrilled and very grateful to be chosen for the 3rd time by the Carten Committee and if previous support is anything to go by, we should be raising an overall total of well over £200,000.
Our President Jonathan Davies started the 2015 ride and following the ride was really pleased to receive a substantial donation from the Carten committee.
We are fortunate to have many supporters who are keen cyclists and hope that they will register to ride the Carten at: http://carten100.com/carten100-2018/
Velindre is Wales' premier Cancer Centre supporting thousands of cancer patients and their families; as well as our Centre in Cardiff our Specialist Nurses provide incredible care and support too many other sites across South Wales."
Pictured:
Velindre president Jonathan Davies starts the 2015 Carten ride.