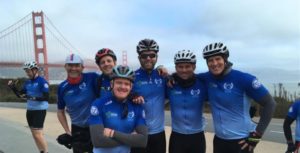 On Wednesday 2nd of September 2020, twenty two close friends and team-mates of former Wales centre Matthews J Watkins will cycle from Llanelli to Oakdale in his memory on what would have been his 42nd birthday, and to raise funds for Velindre where he received treatment.
The group, which includes former Wales rugby stars Shane Williams and Alix Popham, will cycle 150km in one day, visiting some of the clubs that had such a positive impact on his life along the way, to remember their friend who sadly passed away from cancer in March this year.
The ride will start at Parc y Scarlets, where they will be joined by former Wales and Llanelli coach Gareth Jenkins who signed Matthew to Llanelli and was so influential on his playing career.
Gareth said: "Matthew approached his illness with the same determination as he had been as a player. It was so sad that he was to pass at a time when we were unable to pay the kind of tribute which Matthew richly deserved. It is a huge testament to Matthew, the person that his friends are undertaking this charity cycle ride for Velindre Cancer Centre, to honour his memory. We are all thinking of Matthew's family at this time, his wife Stacey and his two cherished boys, Siôr and Tal."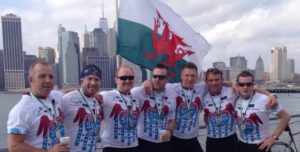 From the Scarlets the group will head to the Liberty Stadium, then to the Principality Stadium, Rodney Parade, Pontllanfraith RFC and finally onto Oakdale Rugby club where Matthew's sons now play and where Matthew also helped out as a coach.
Friend and ride organiser Gavin Bennett said: "Over the last 7 years, MJ inspired so many of his friends and family to take on challenges and support charities, in particular Velindre Cancer Centre, which was very close to his heart.
Some of us were lucky enough to experience some of these life changing events with him and meet some truly inspirational people, and we have MJ to thank for this.
In true MJ fashion, we're not going to sit on our backsides and mope about his loss, but do something positive, and that I'm sure he'd appreciate.
So we have organised this bike ride as a way of remembering our special friend on his birthday and to raise awareness and hopefully lots of money for Velindre – which was really important to him.
I have to say a huge thank you to everybody who's helped put this together, especially the sponsors – Oakdale technical services and Woodcraft Wales who have sponsored our cycling tops, Nutirvend for our nutrition during the ride, Millie Davidge for the logo and Thomas Carroll for the event insurance – we really are grateful and Matthew would be too as he loved a freebie!"
Brynmor Williams of Thomas Carroll said: "Thomas Carroll is delighted to be able to support this special event. Velindre has helped several colleagues and family members over the years and we are very aware of the incredible work they do there .It is particularly important for us to support this occasion as Mathew was well known to us and he was much admired and hugely respected."
Kylie McKee, Deputy Head of Fundraising at Velindre, said: "Raising money for Velindre was really important to Matthew as it was his way of giving something back. He did our Boston to New York bike ride in 2014 and then our San Francisco to LA bike ride in 2018 – and having him on the rides really made a difference as he was such a big character and always so positive. He did numerous golf days, rugby dinners, lunches and so much more to raise whatever he could for the charity, so the boys organising this fundraising ride to raise funds for Velindre on his birthday really is a fitting tribute."