Velindre Ambassadors receive High Sheriff Award after raising £745,000 for Velindre.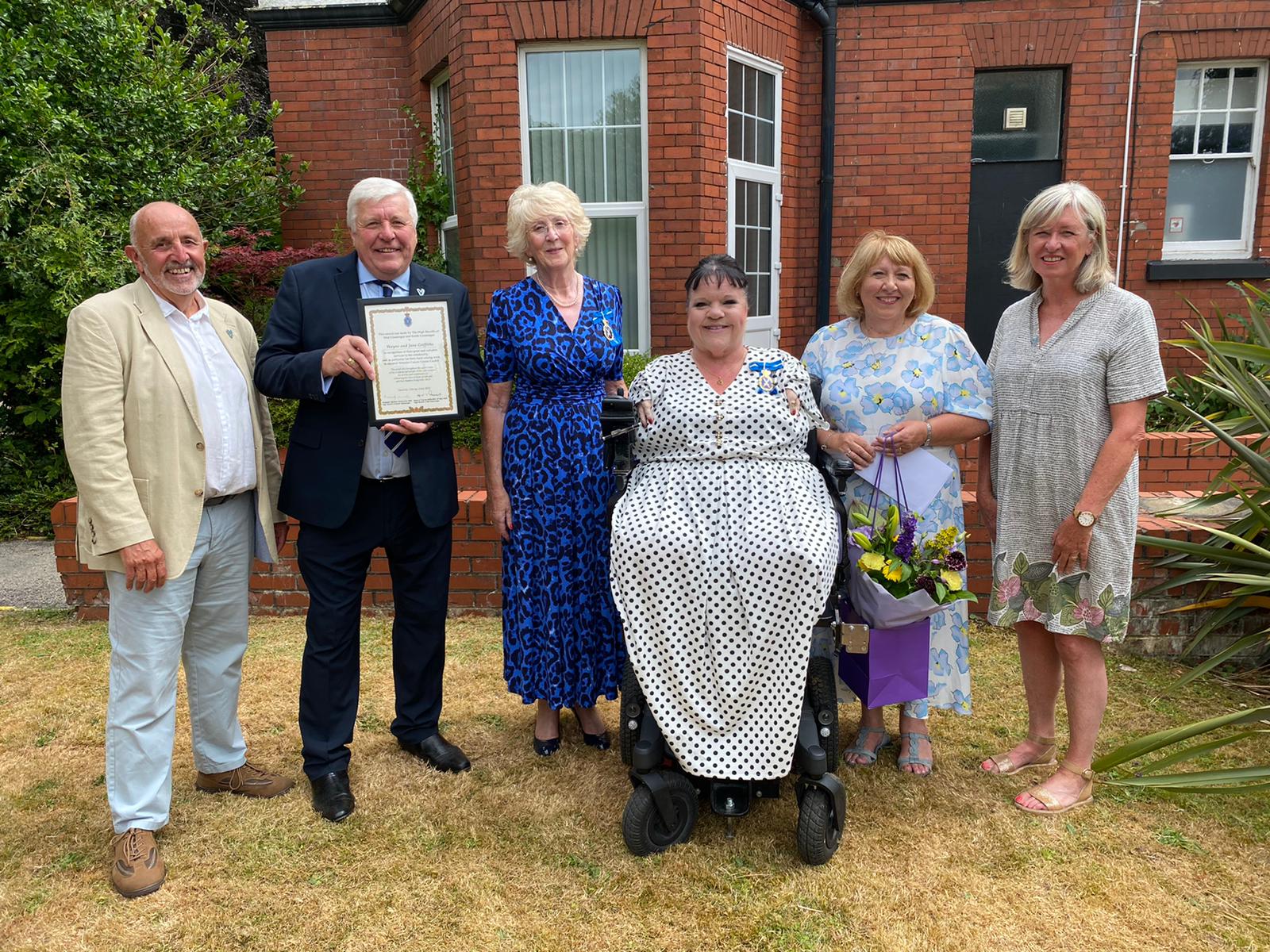 On Tuesday 13th July 2022, we had the great honour of welcoming Maria Thomas (High Sheriff of Mid Glamorgan) and Rosaleen Moriarty-Simmonds (High Sheriff of South Glamorgan) to one of the gardens at Velindre Cancer Centre for a very special and intimate award presentation.
The award made by both High Sheriffs was presented to Charity Ambassadors Wayne and Jayne Griffiths in recognition of their great and valuable services to community. In particular they recognised the outstanding fundraising work in support of The Rhian Griffiths Forget Me Not Fund at Velindre which was created in loving memory of Wayne and Jayne's beautiful daughter, Rhian, who sadly passed away in 2012.
To date, the Rhian Griffiths Forget-Me-Not Fund has raised a staggering £745,000 and has touched the hearts and lives of many outlets, donors and supporters along the way. Wayne and Jayne have worked tirelessly to distribute and sell Forget Me Not Badges in memory of Rhian and have most recently enlisted the support of their two grandchildren, Hari and Mili, who now help too.
Wayne and Jayne encompass what fundraising for Velindre is all about and they continue to deliver invaluable support with such passion and grace.
On behalf of all at Velindre Cancer Centre and Charity, we sincerely thank them for continuing to show such generosity to our cause and commend them for continuing the legacy of their late daughter, Rhian, so superbly.
It was wonderful to welcome a number of staff members to the presentation including Steve Ham, Donna Mead, Jacinta Abraham and Michele Pengelly.
Thank you Wayne, Jayne, the entire Griffiths Family and all outlets and donors who have shown such kindness along the way.