Derek's Dazzlers take on Cardiff Bay 10k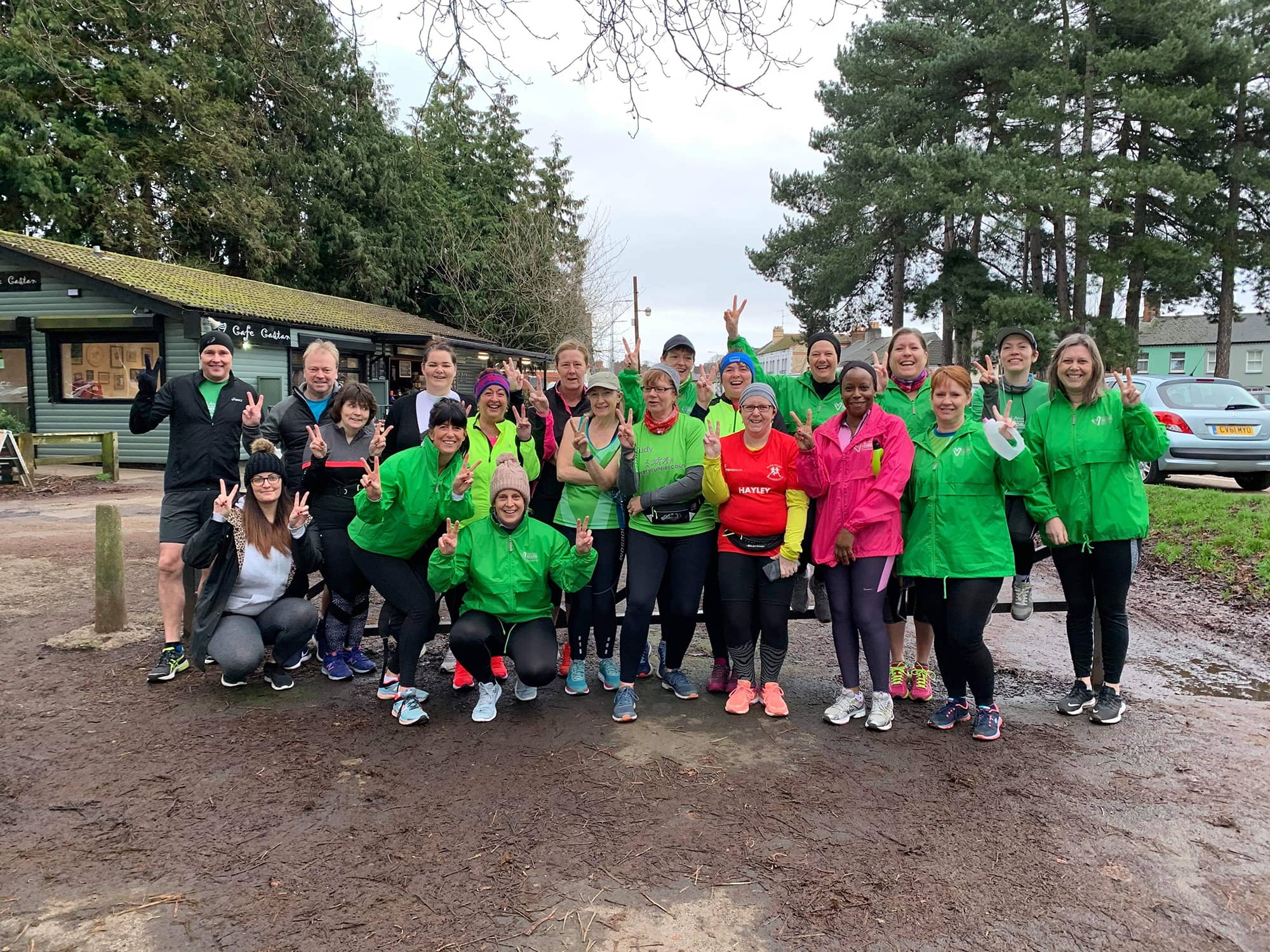 Velindre are proud to be the official Charity Partner of the Brecon Carreg Cardiff Bay 10K for 2020.
We are beyond excited about the incredible response the partnership has received, selling out all of our charity spaces in a matter of days.
As well as our charity runners, we also have a very special group of runners, the Dazzlers, who will be running with everyone's favourite Welsh Weatherman, Derek Brockway.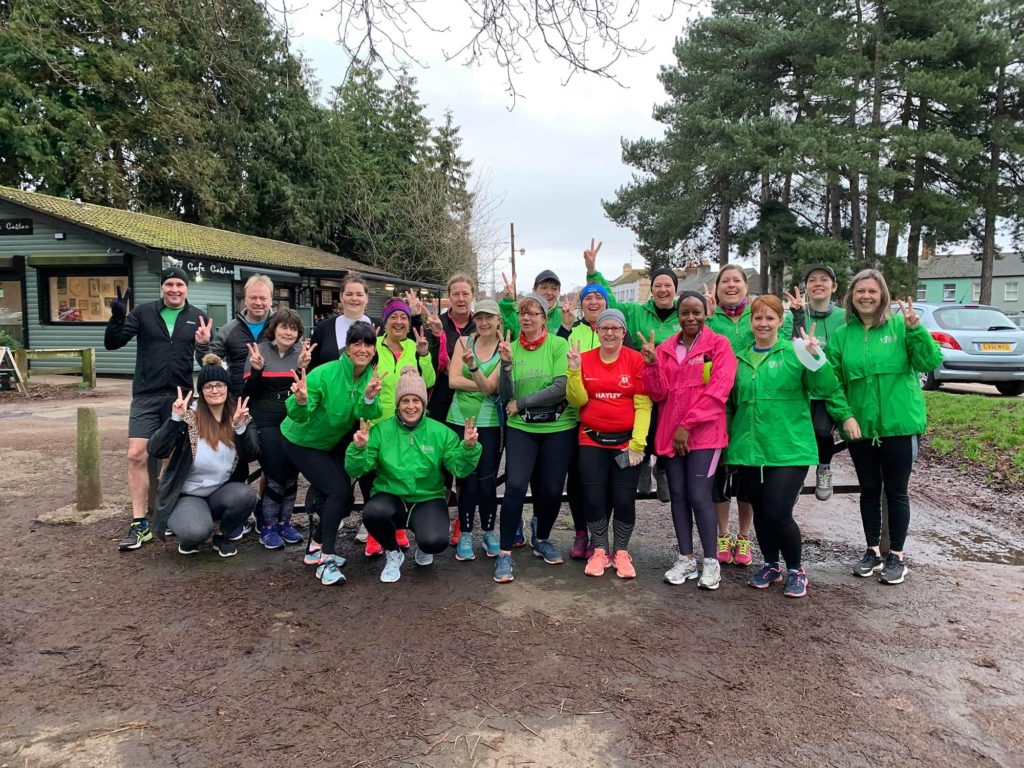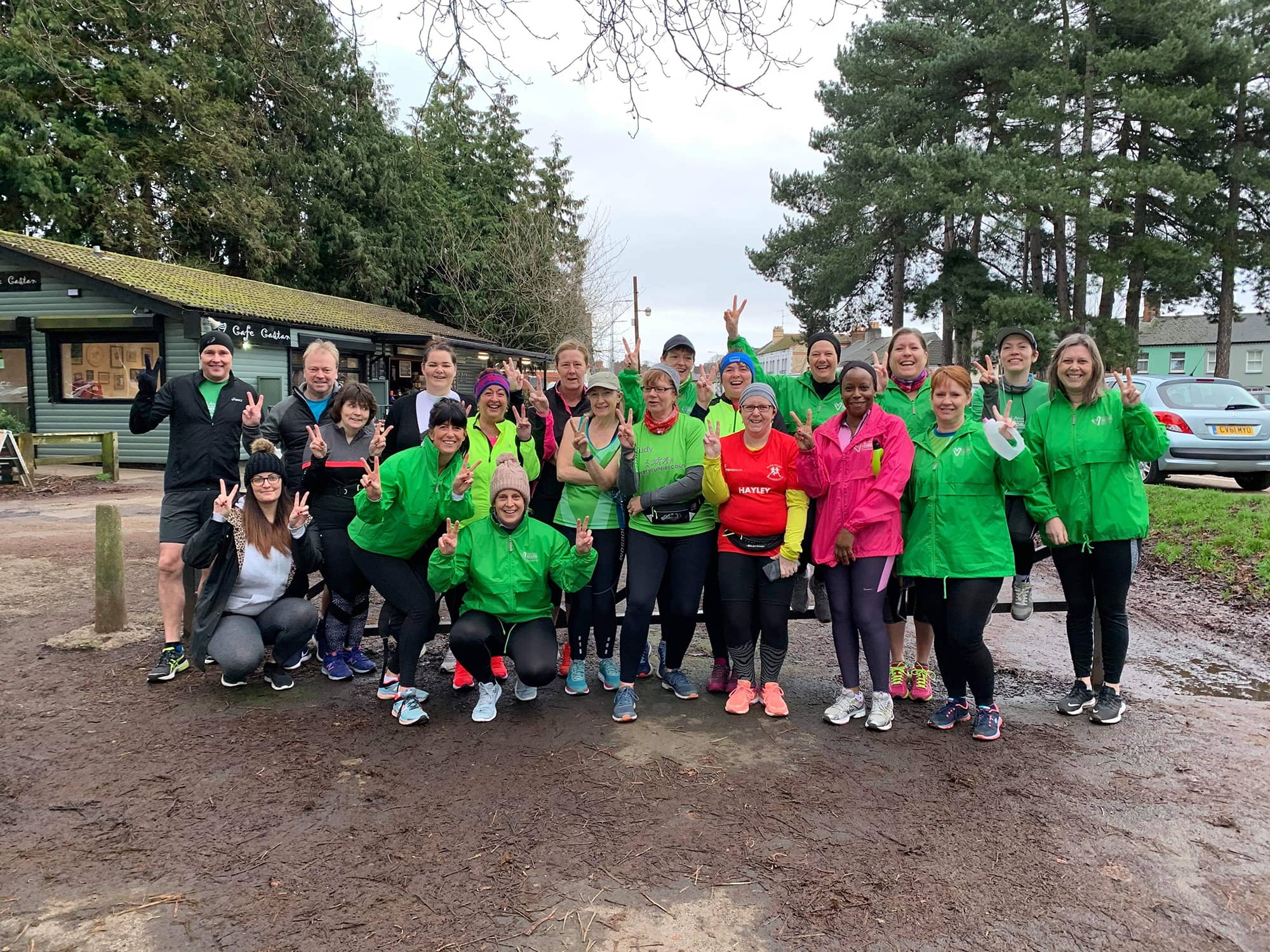 Some of Derek's Dazzlers post-training at Pontcanna Fields
The Dazzlers are an inspirational group of fundraisers made up of patients and relatives treated at Velindre Cancer Centre, many of who haven't run for years and in some cases, never.
We feel very fortunate to have the help of Katie Brickle, whose dad was treated at Velindre, to coach the group and is the most motivational, determined lady we've met.
The group meet every Wednesday evening and Saturday morning for training runs, spurring each other on and workings as a team to push through.
They are all doing a phenomenal job and we are loving seeing the progress made week after week.
We have the most incredible team of Dazzlers, here's what a few of them have to say about the Cardiff Bay 10K and Velindre.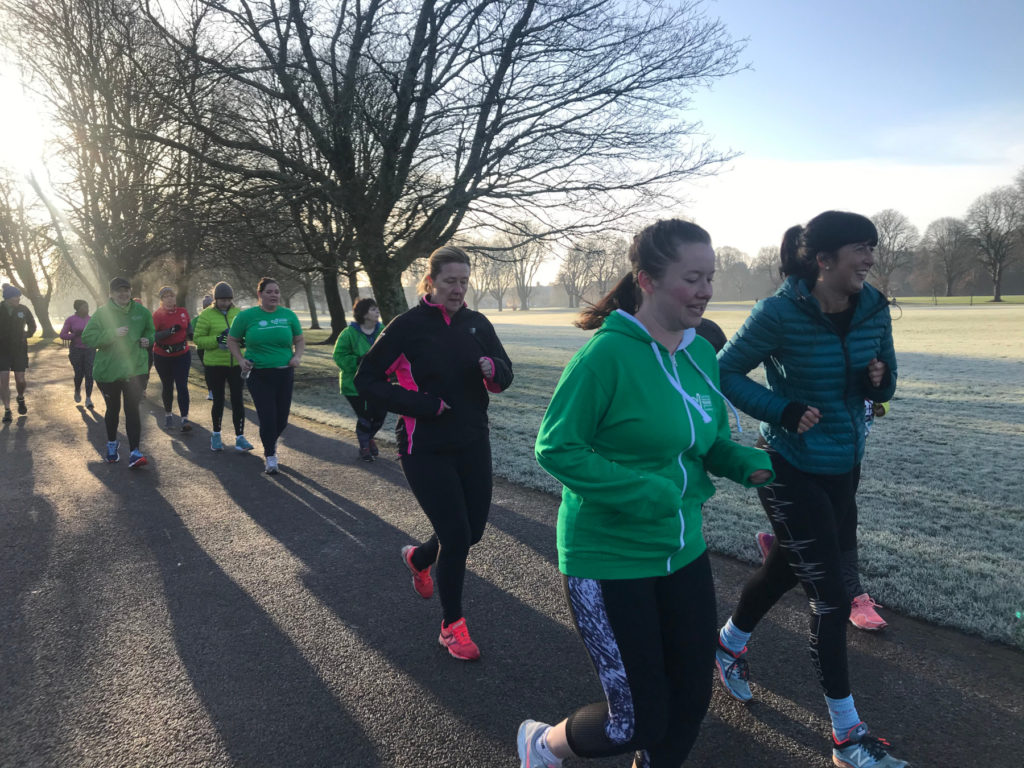 Amy Gee, (front runner in green hoody), a Nurse at Velindre says;
As many of you know, Velindre holds a very special place in my heart. This year we are celebrating the one year anniversary since Dave, (my husband), was diagnosed and treated for cancer. The Care, guidance and support we received was absolutely incredible and got us through one of the toughest times of our lives.
Sadly, statistics now state that 1 in 2 people will be diagnosed with cancer. This means that it is very likely at some point in your life, someone very dear to you will be affected by this devastating disease. Velindre helps patients living with and beyond cancer their families and friends in so many difference ways & a lot of this is made possible due to fundraising.
We will always be grateful for the amazing care we received and feel there is no better way to show this than to raise money for such a worthy cause.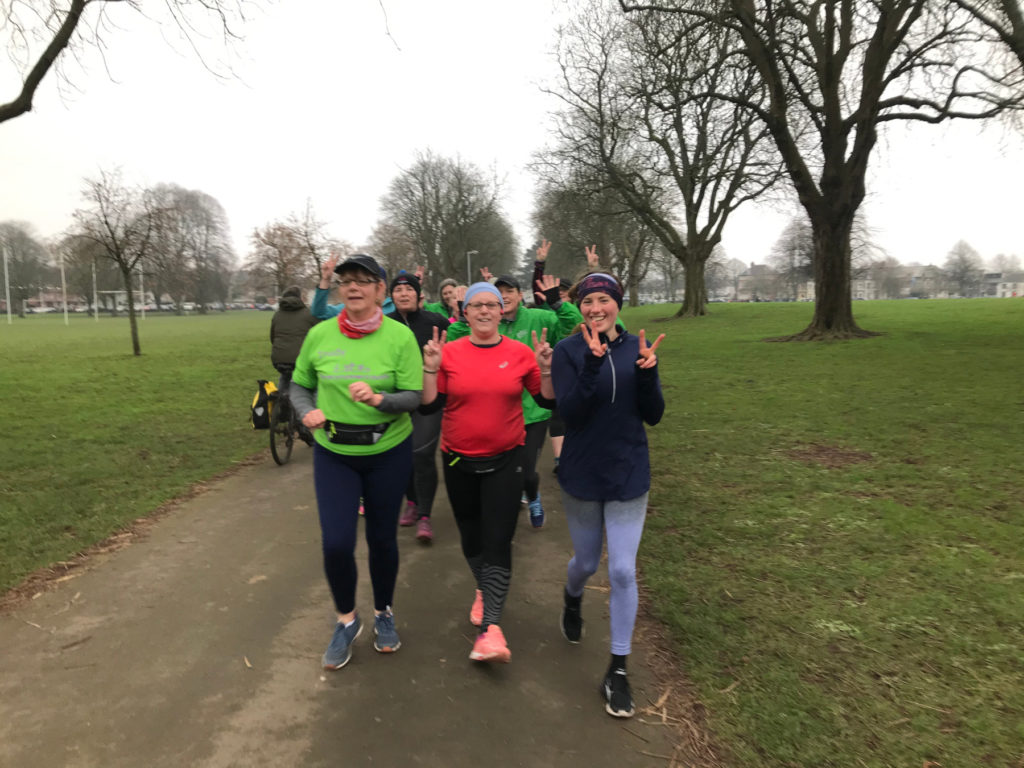 Hayley Davies (middle), a current patient at Velindre Cancer Center, running with some of Derek's Dazzlers.
I started running with the Major Milers in October 2017 after I saw everyone running in fancy dress, my thoughts were I wish I could run like them. I did think they were all crazy but they did inspire me to start my running journey.
I just turned up on run night and set off on my first 5K, I hadn't run for almost 25 years and my poor body was in total shock, I ran a little and walked a lot more, but I did it, I was knackered after it but I felt amazing and the support I got from the other members was incredible.
The support from all members has been absolutely amazing and I have made some great friends. This proved vital when in January 2019 I was diagnosed with breast cancer. I used running as my escape and to forget about my illness. I started my treatment in February and I continued to attend club nights and the support just kept coming. Whilst having chemotherapy I started struggling with the running and then after chemo number 3 I realised I was ill and decided I needed to concentrate on getting better and running would still be there once chemo had finished.
Then in June 2019 my running club started the C25K programme and it couldn't have come at a better time. I have used this to help me start getting my fitness back and again the support from all the Llantwit Major Milers has been incredible. I still have a long way to go. I then had to go off again as I had to have my surgery. I took 3 weeks off and then resumed my running once again. I then started radiotherapy and even though I was really tired I still ran as the sense of achievement you get after you have finished is exhilarating. I also ran the Cardiff half marathon last year and when I eventually crossed the finish line I burst into tears as I had done it. Through all my treatment I had a goal to complete the half and I wasn't letting my illness stop me.
Running has been a massive help and when things have been hard, running has kept me going and has stopped me having meltdowns and feeling sorry for myself.
I wanted to be a Dazzler as Velindre have played a vital part in my life this last year. I wanted to try and give back for them giving me my life back. I have absolutely enjoyed meeting all the team and I am really looking forward to running this race and hopefully raising as much money as I can.
Gethin Thomas who has lost an amazing 56lbs to take part in the Cardiff Bay 10K for Velindre.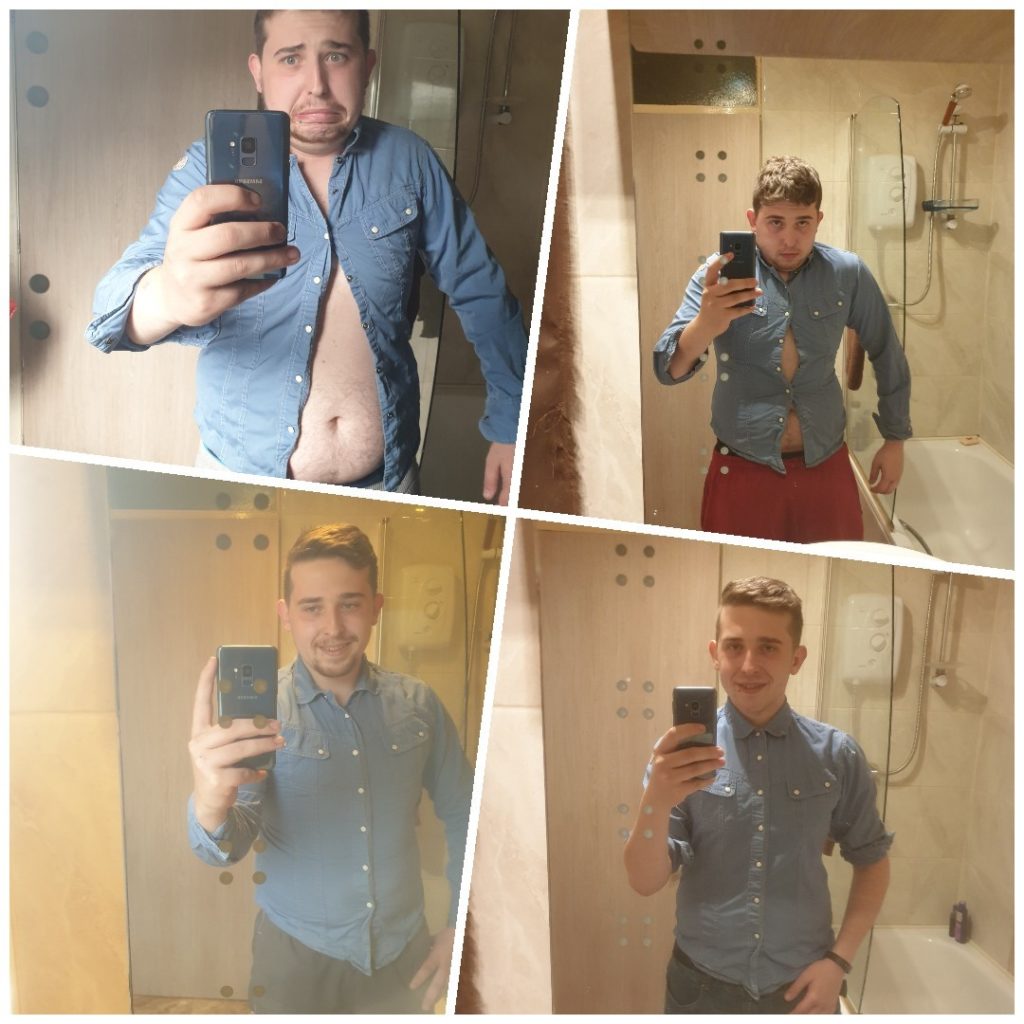 I signed up to the 10k for Velindre as it means a lot to me. My sister sadly passed away due to cancer in 2016 and I think the staff at Velindre do an exceptional job on a day to day basis. As well as this, training for the 10k has given me a massive health kick, losing 56lbs and feeling a lot better about myself 🙂
We honestly couldn't be more grateful for the hard work and commitment that all of our fundraisers are showing and we are excited to meet them all on the 29th March 2020 when we paint Cardiff Bay green for Velindre.
Velindre – the "Hospital of Hope" is the major provider of radiotherapy and other specialised anti-cancer treatments in Wales, and we have been providing the best possible care, support and treatment to cancer patients and their families for over 60 years.
By 2020 one in two people will be affected by cancer.
However more people than ever are living with cancer and survival rates have doubled in the last 40 years through earlier detection and better treatments.
Your support will fund specialist nurses, therapies, ground breaking research and clinical trials.
We aim to provide the best care, when families need us most.
If you want to fundraise for Velindre through the Cardiff Bay 10K, you can enter online now here.