TACX Virtual World Ride for Rity

TACX Virtual World Ride for Rity
On Saturday 21st July 2018, 55 year old Chris Daniel from Merthyr Tydfil, will complete an epic 18,000 mile around the world virtual cycle ride, a world record, in memory of his beloved wife Rita 'Rity' who died from Bowel Cancer in 2016.
The 'TACX Virtual World Ride for Rity – Cycle2ConquerCancer' sponsored by TACX, has seen Chris cycle up to 100 miles per day since 1st December 2017, and when he finishes he would have cycled the equivalent distance and terrain of cycling around the world on a static bike.
The aim of Chris' challenge is to raise awareness of Bowel cancer as well as vital funds for Velindre Cancer Centre, where Rita was treated, Cancer Research Wales, Bowel Cancer UK and Beating Bowel Cancer.
Chris will complete this incredible challenge on Saturday 21 July 2018 at Trego Mills shopping centre in Merthyr Tydfil, his home town, where he will be joined by other supporters who cycled 25 miles alongside him to raise money.
Chris has received lots of support from celebrities including Wales Rugby stars Leigh Halfpenny and Sam Warburton who's a Patron of Velindre, and BBC Scrum V presenter and Velindre Ambassador Sean Holley.
Chris has smashed his £25,000 target raising more than £68,000 which will be shared between his chosen charities.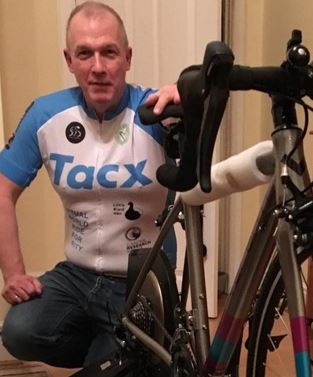 Chris says: "I met Rita 38 years ago when we were aged 17. It's amazing to meet someone you love when you are that young. We were married for 33 years. When she was 48 Rita started to feel not quite right and her GP referred her for tests. In February 2012 we found out she had bowel cancer. Just remembering it takes me straight back into that room. We cried all the way home, we were both completely uncontrollable.
"A cancer diagnosis hits everyone, it's like dropping a bomb and the ripples touch everyone. And the closer you are to the person the more impact it has on you. It changes you and affects you forever. It is the worst. Unless you've gone through it, you just can't explain it. It is total devastation.
"She was my rock, she did everything for me and was a fabulous mother to our boys. Shortly after she died we had our first grandchild; it breaks my heart as she would've loved being a grandmother.
"During Rita's treatment we spoke about this cycle and she was the one that encouraged me to do it. She wanted to raise awareness of bowel cancer. It rips me to pieces every time I talk about it but I need to do it to get the message across. I will do whatever I can for the rest of my life. I gave up my job to do this. This ride is for Rity.
"It's been tough, mentally and physically. Some days I had to dig very deep to get through it but I carried on pedalling knowing she would have been proud of me.
"The support from South Wales has been tremendous. An enormous thank you to my sponsors, the people that cycled 25 miles with me, the donors, and especially to all the companies that hosted me – every single one of you made it a little easier each day.
"My warm down will last three months, each day cycling fewer miles."
Andrew Morris, Head of Fundraising at Velindre, says: "What Chris has achieved is absolutely incredible. To give up so much of your life to undertake such a mammoth challenge just shows how incredibly passionate he is about raising awareness of Bowel Cancer as well as vital funds for the charities close to his heart."
Dr Richard Adams, a consultant at Velindre, says: "Raising awareness of bowel cancer is essential. We launched our bowel cancer campaign, The Undercover Appeal, because so many of us find it difficult or uncomfortable to talk about areas of our bodies that are so personal and not everyone wants to see a physician to get screened for these types of cancers. Bowel cancer affects men and women equally and early diagnosis is vital. Bowel cancer is one of the most curable cancers if caught early enough and treated successfully."
To donate to Chris's TACX Virtual World Ride for Rity fundraising challenge: www.justgiving.com/teams/rity