Haberdasher's Support Wear Red

Haberdashers' Monmouth Schools will Wear Red For Wales And Velindre
A teenager, whose father has overcome cancer, is urging students to paint Haberdashers' Monmouth Schools red for a day.
Thirteen-year-old Darcey, a pupil at Monmouth School for Girls, has seen at first hand the tremendous work carried out by staff at Velindre – Wales' Premier Cancer Centre.
Darcey, a Velindre Young Ambassador, is delighted that Haberdashers' Monmouth Schools will be joining forces to support the Wear Red For Wales And Velindre initiative on Friday 2nd February.
Children from across Haberdashers' Monmouth Schools joined Darcey to launch their campaign.
Pupil Darcey is a Velindre Young Ambassador.
The scheme encourages schoolchildren to wear something red on the eve of Wales' opening Natwest Six Nations rugby match against Scotland and donate a minimum of £1 to Velindre in Cardiff.
"When I was six years old, my dad, Mark, was diagnosed with bowel cancer and we were told to prepare for the worst," recalled Year 9 student Darcey.
"My dad received fantastic treatment and care as a patient at Velindre, where he underwent a 10-hour operation to save his life.
"He's had the five-year all-clear and is now in good health.
"Cancer is a dreadful disease but having seen the remarkable work by staff at Velindre I wanted to get involved to help to promote this brilliant campaign."
Darcey attended the inaugural Velindre Young Ambassador evening at Velindre Cancer Centre in December.
She said: "I think all children and staff at Haberdashers' Monmouth Schools will get involved in the day and it's going to be amazing."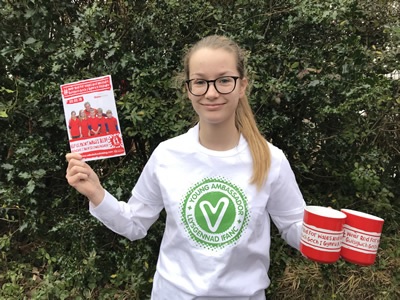 Velindre spokesman Michael Locke said: "The Wear Red For Wales And Velindre campaign aims to raise vital funds for Velindre Cancer Centre and show support for the Welsh rugby team.
"Money raised from this campaign will be used to ensure the best possible support is offered to every patient, their families and carers dealing with cancer."